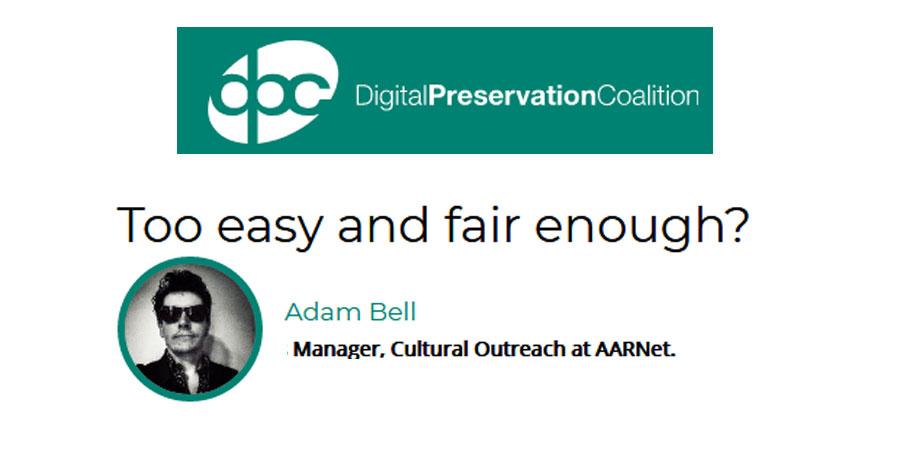 Original blogpost from Adam Bell (Manager & Cultural Outreach at AARNet) for the Digital Preservation Coalition
---
AARNet is Australia's National Research and Education Network, best known for operating the high-speed, low-latency fibre optic network that interconnects universities, research organisations, schools and major cultural heritage organisations around Australia.
In response to the pandemic and with physical site excursions banned, we saw network traffic from connected GLAM institutions rise in step with an increase in the delivery of education and outreach programs online and supporting remote access for staff.
Recently, AARNet's role in supporting critical digital activities in organisations has expanded from the provision of network services to include infrastructure and services for data storage, collaboration and security.
As AARNet gears up to deliver new cloud infrastructure and expand existing services to meet the changing needs of the research and education sector we have sought to understand the requirements and responsibilities of researchers, data curators and institutions, including the challenges of digital preservation. AARNet is pursuing this goal through Digital Preservation Coalition membership, an international community that exists to preserve the world's digital legacy, and by supporting several projects with digital preservation dimensions: Science Mesh, ARCHIVER and Play it Again 2.
Science Mesh and ARCHIVER
Science Mesh is a foundational component of the European Open Science Cloud (EOSC). One of its aims is to federate existing and emerging data infrastructures with the objective of offering a virtual environment in Europe and globally to share and re-use research data across borders and disciplines. AARNet's CloudStor platform is part of the initial consortium of services to be connected into EOSC.
The role of the Science Mesh is to provide inherently findable, accessible, interoperable and reusable (FAIR) cloud data storage and collaboration tools for researchers. The outcome is for interoperable research workspaces, data movement and management between research organisations. The work package to deliver this FAIR data capability for the Science Mesh is executed by Australian, Polish and German developers, and is project managed by AARNet.
To create a data packaging tool chain that forms a foundation for preservation efforts, Dr Marco La Rosa and Dr Peter Sefton are building tools based on the Oxford Common File Layout (OCFL) and Research Object Crate (RO-Crate) specifications. This tool chain was initially proposed for the Pacific and Regional Archive for Digital Sources in Endangered Cultures – (PARADISEC) archive of endangered language resources, which includes audio, video and descriptive material. The tools have been released as products named Arkisto and Describo.
The OCFL specification describes an approach to packaging digital material without reliance on any particular technology and in a way that allows a repository to be indexed, presented and recovered in the event of disaster using familiar, commodity tools and well understood methods. Digital material is packaged with metadata, similar to BagIt, to form archival information packages, and is designed to be scalable to petabytes and beyond.
The EOSC Secretariat commissioned DPC to investigate the long-term preservation goals in the European Open Science Cloud. The study FAIR Forever: Long Term Data Preservation Roles and Responsibilities was released in March 2021 and found a number of strengths and importantly identified areas that lacked clarity. The report made recommendations that "identified good FAIR practices and approaches within EOSC that address some but not all of the technical challenges of digital preservation."
The report notes that "EOSC is an emergent entity currently in transition. Consequently, the recommendations and findings offered here will not be current for long. Relatively new services and tools, notably those being developed through the Archiving and Preservation for Research Environments (ARCHIVER) project, have made progress in the lifetime of this research and hold promise even if they have not yet reached maturity."
AARNet is participating in the ARCHIVER Project early adopter program. An initiative of CERN, this project is piloting digital preservation solutions "towards 'research-ready' commercial services for long-term archiving and preservation of scientific data" for EOSC.
Observing the FAIR data principles does not automatically assure the long-term preservation of digital material. There is much work to do in weaving digital preservation into the fabric of institutions and lowering obstacles to procurement.
Play it Again and emulation in Australia
Emulation is a preservation strategy that has broad application but is not trivial to develop, maintain and deploy. Developed by computer scientists at Freiburg University, the Emulation-as-a-Service (EaaS) platform provides access to obsolete computer environments, enabling legacy software and other complex digital artefacts to be emulated and accessed by users in a web browser. This solution is being used or evaluated at a number of institutions, including Rhizome, the Tate and a consortium of universities and archives in the USA lead by Yale that are participating in a networked version of EaaS, known as EaaSI ('easy').
Play it Again is a project lead by Professor Melanie Swalwell at Swinburne University that continues her research into historic video games and media arts from Australia and New Zealand. Central to this project, to ensure the ongoing access to obsolete software, is the EaaSI project.
Alongside DPC membership, AARNet has joined the Software Preservation Network, an organisation aiming to advance the technical and legal capabilities to ensure long-term access to software and software-dependent cultural heritage by proposing standards, developing software (including EaaSI), training, advocacy and fostering a community of practice.
Initially this membership is in support of Play it Again, to foster collaboration among cultural heritage collections that contain obsolete software that cannot be migrated to accessible formats. AARNet's long-term goal is to host EaaSI as a shared service on its emerging cloud-computing platform for Australian cultural heritage, academic and research institutions.
---
Source: https://www.dpconline.org/blog/too-easy-and-fair-enough