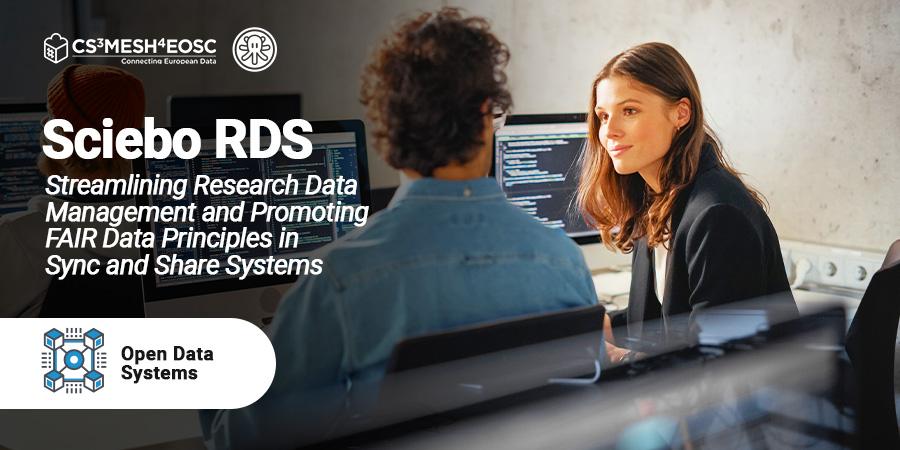 Managing research data can be a daunting task, especially when multiple people are involved, and data is spread across different systems.
In fact, as researchers increasingly rely on Sync and Share systems to store and collaborate on data, the need for seamless integration with research data management systems has become more apparent.
However, currently, direct data transfer between these systems is not possible and metadata descriptions have to be entered manually each time data is pushed, which can be a cumbersome and time-consuming process.
Sciebo RDS: One of the Open Data Systems technologies powering up the Science Mesh
This is where the Sciebo RDS (Research Data Services), one of the Open Data Systems technologies of CS3MESH4EOSC, comes in. The goal of sciebo RDS is to provide researchers with low-threshold services and tools for research data management and scientific analysis, directly integrated into the university cloud "sciebo".
Sciebo RDS: Enabling direct export of research data from Enterprise Sync and Share (EFSS) systems to data repositories.
Sciebo RDS is a non-commercial cloud storage for universities, where you can securely store your research, study and teaching data that aims to provide simple research data management and analysis services to researchers through the university cloud, "Sciebo".
Sciebo RDS uses an agile approach to software engineering, allowing quick responses to new software issues and changing requirements.
To achieve its goal, Sciebo RDS integrates external research data services, offers bridge functionalities to connect to external services via programming interfaces, integrates external expert tools, and offers basic research data management functionalities.
Sciebo RDS acts as middleware with its own front end, which connects a Sync and Share system to different research data repositories. This middleware makes it easier to establish new connections to other research data platforms by using its established front-end integration.
The RDS middleware integrates a metadata editor that stores the metadata in a sidecar object in the form of a research object file (RO crate). Currently, researchers cannot push data to and from research data management systems directly from a Sync and Share system unless a specific app is created.
However, with Sciebo RDS, it is possible to reuse metadata after including them in the project folder. It provides a solution that can be adapted and expanded to work with any EFSS software and data repository.
With Sciebo RDS, researchers can export their research data sets to data repositories such as Zenodo or OSF directly from the EFSS without downloading data to their local systems. Sciebo RDS acts as an interoperability layer that makes it easier for researchers to publish their research data and promotes FAIR data principles.
Being part of the Science Mesh increases the visibility of Sciebo RDS, which brings new users who use the system on their servers and create new connectors increasing the value of Sciebo RDS for all other users. In a technical sense, Sciebo RDS can be integrated into the workflow of the Science Mesh, which streamlines the workflow for the users and reduces friction further.
---
In summary, Sciebo RDS provides an easy-to-use solution for researchers to manage their research data and simplify the data publishing process.
With its integration of external research data services, Sciebo RDS makes it easier to establish new connections to other research data platforms. It offers a one-size-fits-all solution that can be adapted to work with any EFSS software and data repository.
By promoting FAIR data principles and making it easier to publish research data, Sciebo RDS aims to encourage researchers to generate more openly accessible data, enabling researchers worldwide to build on the data that their colleagues already have.