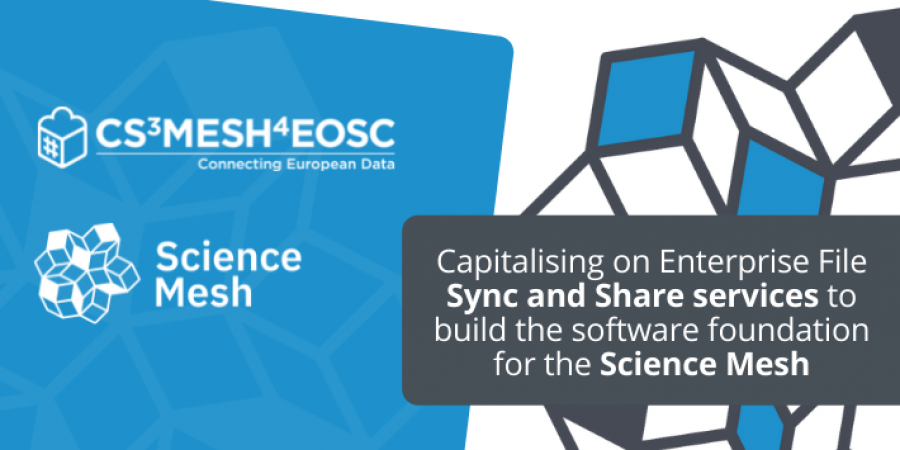 CS3MESH4EOSC project has started the development of integration mechanisms between the three most widely-used Open-Source Enterprise File Sync&Share (EFSS) platforms (ownCloud, Nextcloud and Seafile) and the Science Mesh service. This will allow researchers to securely share and exchange data using the various EFSS services which are already in place for many researcher communities. It will also facilitate the development of new functionalities and integration with existing services for research worldwide.
---
Researchers are facing the challenge of global collaboration beyond the traditional institutional boundaries. To this end, several European companies such as ownCloud and Nextcloud, as well as Seafile from China, provide technology solutions focused on simplifying the access to and sharing of data and offer rich, collaborative application ecosystems. While these applications undoubtedly improve collaboration at the institutional level, they don't offer interoperability at a larger scale between different vendors. The status quo falls short of providing an environment which can truly answer the needs of a highly geographically-spread and cross-institutional global scientific community which goes well beyond the borders of a single research institute or country.
Science Mesh is a decentralised federation of EFSS nodes. Users may easily share and synchronise their files and datasets, even if they belong to different institutions and independently of the actual EFSS platform they use. To facilitate this, an "InterOperability Platform" (IOP) developed by the CS3MESH4EOSC project is made available as an add-on to each of the EFSS solutions. IOP is a technical component interlinking the nodes in Science Mesh and it allows users to simply use the already-familiar, native interface of their EFSS service to collaborate with users of different EFSS services in other institutions. This approach conveniently shields the users from the technical complexity while ensuring full interoperability as the EFSS solutions evolve independently.
ownCloud, a well-known, free and open-source software platform, is widely deployed in the European research and education networks. ownCloud has been one of the key technology contributors to provide a secure, federated data platform for more interconnectivity and productivity across the scientific community, and the proponent of the OpenCloudMesh. The new ownCloud Infinite Scale product natively integrates Reva IOP, offering high performance and cloud-native scaling. Sites deploying ownCloud Infinite Scale will have the built-in capability to connect to the Science Mesh federation and other research services.
"We at ownCloud are very excited to both support and be part of the CS3MESH4EOSC initiative! Research networking is a key part of our DNA and our mission", says Christian Schmitz, Chief Strategy and Innovation Officer at ownCloud.
Nextcloud integration with IOP is being implemented in partnership with the Dutch development companies Ponder Source and Muze. A plugin for Reva, the software package behind Science Mesh's IOP, is being developed using Nextcloud's internal file access APIs and being made available through the platform's Web User Interface. An easy-to-install app allows a Nextcloud site administrator to connect their service node with the rest of the Science Mesh federation.

"All institutes using Nextcloud now have the opportunity to join the fast-growing Science Mesh. This represents the possibility to connect seamlessly with researchers from any other institute across Europe, but at the same time maintain the sovereignty of your existing Nextcloud system!" - Michiel de Jong, Founder of Ponder Source.
Seafile is an open source file sync&share solution designed for high reliability, performance and productivity with more than 2 million users worldwide. Seafile offers a highly efficient synchronisation protocol with block deduplication. A Seafile plugin for Reva is in the prototyping stage.

"Integration with ScienceMesh helps Seafile users in the European research community to better collaborate with other EFSS services. This is important for our users and the success of Seafile. The integration also brings us integration with many third-party applications with no extra effort, which makes Seafile more attractive to users. We're happy to be part of it.", says Jonathan Xu, Founder and Chief Technology Officer at Seafile.
We expect to test the full interoperability chain between ownCloud, Nextcloud and Seafile at the end of this year and to enter production in 2022. This will be the major milestone for Science Mesh and it will enable interoperable file sharing for hundreds of thousands of researchers. Furthermore, this work also opens the door for integration of other research services built in the context of the European Open Science Cloud (EOSC).
GET TO KNOW MORE ABOUT THE DIFFERENT DATA SERVICES FROM THE SCIENCE MESH
Disclaimer: The ScienceMesh platform and its components were developed using open source technologies. This does not imply any endorsement by organisations which make these technologies available, and beyond the endorsements explicitly given by the organisations.