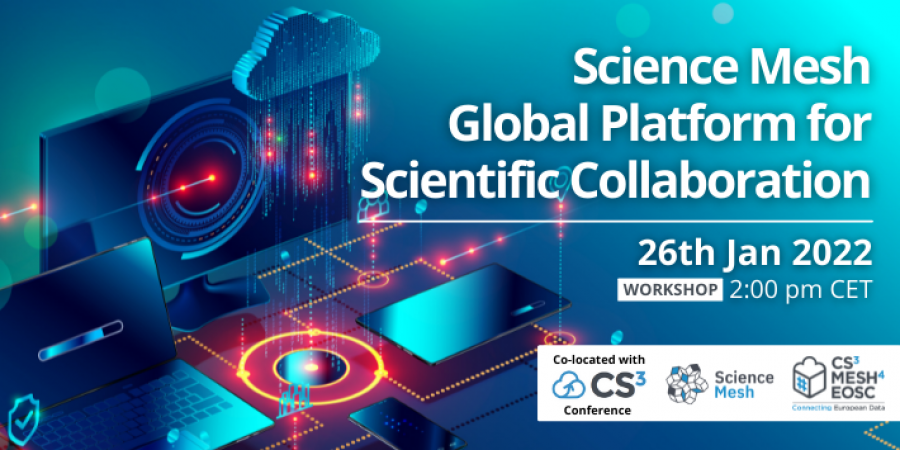 The main goal of the Science Mesh Workshop "Global Platform for Scientific Collaboration", co-located at the CS3 2022 Congress, is to dialogue with early adopters and potential vendors that will contribute to the final development, deployment and adoption of the Science Mesh. The Science Mesh is a global collaboration service for researchers, educators, data curators and analysts based on OCM (Open Cloud Mesh) and CS3APIs (Connect Storage and Application Providers). It provides an interoperable platform to easily share & deploy application and software components, while providing rich collaborative workflows.
The day will also bring out insights around what are the needs of ESFRI European Strategy Forum on Research Infrastructures clusters and their related infrastructures in terms of data synch and share. The ESFRI clusters, from a broad spectrum of scientific disciplines, have strong links with research communities, manage significant data volumes, and develop/operate discipline-specific data analytics tools, while facilitation access to research data for incorporation into EOSC. We will understand what are these challenges and how the Science Mesh can support the ESFRI in overcoming the referred challenges, while contributing to Open Science.
This workshop is a follow up from last year workshop "Moving Towards the Adoption Phase for Science Mesh", co-located at the CS3 2021 Congress.
Key Benefits of participating to the Workshops
From this Science Mesh workshop, you will:
Understand applications and usage of the Science Mesh through demonstrations
Grab the opportunity to embrace research opportunities on Enterprise file synchronization and sharing (EFSS) product development;
Learn about how to adopt Science Mesh and increase the offer of services for collaborative research and working environments;
See how Science Mesh responds to the goals of the CS3 Community;
Join collaboration opportunities on connecting data
Gain a whole new understanding of how Science Mesh supports European policies regarding the research infrastructures and open science.
Learn about how Science Mesh benefits you regarding managing, sync and sharing your data in an easier way.
Who should attend?
All those interested in making the friction-free collaboration in Europe a reality, where users can access an interoperable federation of data, to easily sync, share and deploy applications and software. More specifically:
Researchers, data curators and analysts: without needing to get familiar with new interfaces, learn how you can use Science Mesh to share and synchronise your files and datasets, even with peers that belong to different institutions and independently of the actual Open-Source Enterprise File Sync&Share (EFSS) platform they use.
Software Developers (commercial and non-commercial): have more info about benefits of adding your software or application into the Science Mesh to increase your number of users, while accessing new software applications and increasing your service interoperability.
Service Providers: increase your number of users and enrich service offering by translating them into commercial and business applications, while adding innovative features through new applications & solutions. 
System administrators: achieve costs reduction by integrating your platform into the Science Mesh and increase your sync & share capabilities through your already existing software platforms.
Policy Makers: understand how the Science Mesh increases research outputs efficiency, ensure they are being used, increase the usage of FAIR data and how researchers which do not have access to on-premise IT infrastructure can make use of the Science Mesh and participate in the EOSC.
Agenda
Time

Description
Speaker
14:00 - 14:05

Welcome and Objectives: CS3 community and ScienceMesh 

Session Style - Presentation

Jakub Moscicki (CERN & CS3MESH4EOSC Project Coordinator) - Presentation
14:05 - 14:25

Science Mesh - Achievements so far within CS3MESH4EOSC

ScienceMesh is an interoperable research platform developed for the EOSC, that enables seamless sharing and collaboration on data between sites running different EFSS platforms (Nextcloud, OwnCloud and Seafile). In this presentation we will give a summary of the status of the integration with of these EFSS platforms into the Science Mesh and outlook for 2022

Session Style - Presentation

Pedro Ferreira (CERN & CS3MESH4EOSC Project Technical Coordinator) - Presentation
14:25 - 14:45

Science Mesh for EFSS service providers

Session Style - Presentation

Ron Trompert (SURF, CS3MESH4EOSC) - Presentation
14:45 - 15:00

ScienceMesh and Nextcloud Opportunities

Ponder Source developed a bridge that allows existing Nextcloud sites to join Science Mesh. This talk will show how it works, and why you as a Nextcloud site will want to join ScienceMesh.

Session Style - Presentation

Michiel de Jong (Ponder Source) - Presentation
15:00 - 15:10

ScienceMesh and Owncloud OCIS - Opportunities

Session Style - Presentation

The status of the integration of Science Mesh with OwnCloud EFSS will be explained.

Hugo Labrador (CERN, CS3MESH4EOSC) - Presentation
15:10 - 15:15

ScienceMesh and Seafile - Opportunities

Session Style - Presentation

Maciej Brzezniak (PSNC, CS3Mesh4EOSC) - Presentation
15:15 - 15:25

Technology & Development - Advancements & Innovations

Session Style - Presentation

Hugo Labrador (CERN, CS3MESH4EOSC) - Presentation
15:25 - 15:40

Researchers and Use-cases

Session Style - Presentation

Holger Angenent (University of Münster, CS3Mesh4EOSC) - Presentation
15:40 - 15:55

Reframing adoption challenges in FAIR Data Infrastructures: Science Mesh as a source of research advantage.

Session Style - Presentation

This presentation explores what is the role of digital infrastructures in the FAIR movement? How can we improve the adoption of digital infrastructures by researchers? Presentation done by ESADE Business School, which leads the Science Mesh "Assessment of Business Impact" task.

Gozal Ahmadova (ESADE, CS3MESH4EOSC) - Presentation
15:55 - 16:00

ScienceMesh 2022: What's in store for 2022?

Session Style - Presentation

Jakub Moscicki (CERN & CS3MESH4EOSC Project Coordinator)
16:00 - 16:15
Coffee Break
 
16:15 - 16:55

EOSC and ScienceMesh - Overcoming data challenges

The session will be opened by a distinguished member of EOSC Association Board who will provide an overview about the EOSC Association structure, goals, as well as its next year's work plan to advance open science in Europe. Afterwards, members from EOSC Task Forces present the main priorities of their task forces and brainstorm how the work from the Task Forces and existing infrastructures and solutions developed by the CS3 Community can be brought together

Session Style - Presentation

Key-Note Speaker: Ignacio Blanquer, EOSC Association Board - Presentation

Session Chair: Ron Trompert, SURF & CS3MESH4EOSC

Pierre-Yves Burgi – Deputy CIO at Université de Genève and member of EOSC Long-Term Data Preservation Advisor TF - Presentation

Roberto di Cosmo, Director at Software Heritage and EOSC Infrastructure for Quality Research Software - Presentation

16:55 - 17:40

Scientific disciplines embracing no border Research Environment thanks to Science Mesh

Introduction made by session chair on the importance of collaboration and joining forces between European initiatives to unlock Open Science. This session will have an esteemed panel from the different RI science clusters to discuss  how the Science Mesh, by teaming up with different research infrastructures, can support them in addressing their challenges related to data sync and sharing, while increasing the long-term sustainability of their services.

Session Style - Panel discussion

Session chair: Silvana Muscella, Trust-IT Services

Xavier Espinal, ESCAPE & CERN - Presentation

Mari Kleemola, SSHOC & University of Tampere - Presentation

François-Perrin, PANOSC & The European Synchrotron - Presentation

Mark van Sanden, EUDAT & SURF - Presentation

Zhiming Zhao, ENVRI-FAIR & Universty of Amsterdam - Presentation

17:40 - 17:45

CS3MESH4EOSC Wrap-Up and Next steps

Session Style - Presentation

Jakub Moscicki (CERN & CS3MESH4EOSC Project Coordinator)
17:45 - 18:15
Chat-Away Coffee at Gather Town
 
Stay up to date with all our latest news and events by subscribing to our newsletter
1. Jakub CS3-2022-ScienceMesh-Intro.pdf