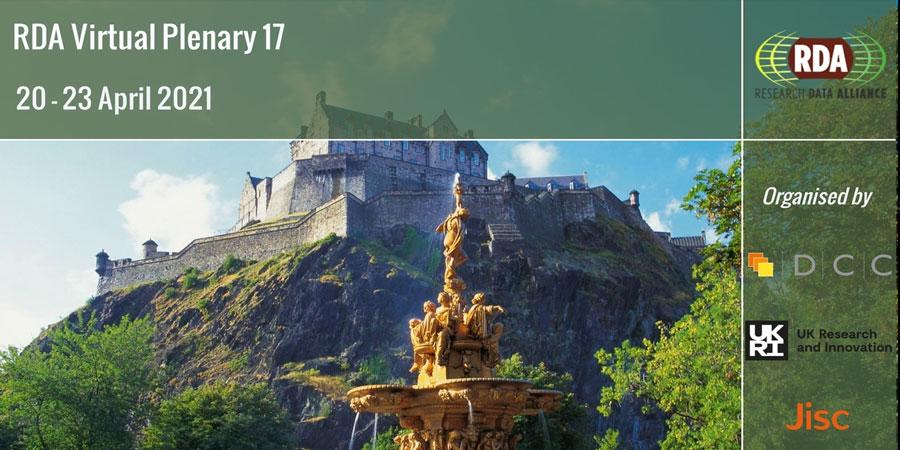 The Digital Curation Centre in collaboration with Jisc and UKRI will be hosting RDA'S 17th Virtual Plenary meeting on 20-23 April 2021.
RDA VP17 Theme: Opening data for global challenges
RDA's plenary meetings provide an opportunity for this diverse collaboration to make rapid progress in all areas of its work - initiating and joining new working groups, sharing interim results from in-progress work, identifying areas of overlap and synergy, and presenting completed work and success stories of its adoption. Plenary 17 in Edinburgh will focus on the themes of global challenges, global mechanisms for data reuse, sustainable solutions with benefits for all, and global cooperation to realise these ends. The plenary will highlight several research use cases around global collaboration to address grand challenges and ensure the societal impact of data reuse.
On 20th April 2021, at 10:15 - 11:45, Holger Angenent, from the University of Muenster (Germany) and partner of CS3MESH4EOSC, will represent CS3MESH4EOSC at the Break-Out session "Experiments in Preparing Data for Interchange and Openness", organised by the RDA Interest Group Research Data Architectures in Research Institutions. In 10 minutes, Holger will do a presentation about "Democratising FAIRification: Handling Collections Level Tools to Coalface Researchers".
In his presentation, Holger will share describe how CS3MESH4EOSC intends to deploy technology solutions (such as Describo) to help institutions that are keen on improving their data FAIRness and be better prepared for open science. By deploying these technologies in a radically democratised way, will increase their availability to researchers. The main benefit is to reduce the nudge researchers towards good data management practices, instead of relying on central IT and the Libraries to be the data custodians of last resort.
The meeting aims to help researchers get their data and/or metadata in a shape that will help others access it, understand it, and build the confidence to re-use it in their own work. The session welcomes institutional enhancements to research workflows, rather than discipline-specific practices. A number of case studies of innovative practices being tried at a variety of research-supporting institutions will be presented, having also time to discuss as a group how the principles involved could be applied to support researchers more broadly. Topics may include how institutions can improve research workflows, support data or metadata standardization, capture and communicate provenance information, enable data interchange, and help researchers prepare their data for openness.
The audience is anyone wanting to know more about what research institutions can do to help their researchers prepare their data better for interchange and openness at the institutional level.
More info: https://www.rd-alliance.org/plenaries/rda-17th-plenary-meeting
SEE THE PRESENTATION VIDEO BELOW
CS3_Conference_sciebo RDS_LH_PH_final.pdf