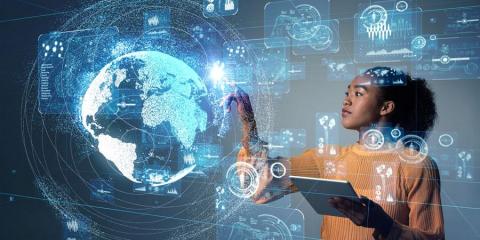 The exponential increase in the use and implementation of digital technologies for collaboration in research has shown to be crucial during this pandemic time. Being able to effectively work together from different countries, while ensuring digital sovereignty of data is essential for everyday scientific and industrial practices. 
Currently, researchers worldwide are facing the need of feeling part of an international community they can trust and contribute to grow, where being able to collaborate in real time to the development and improvement of different fields and topics. To this end, several EU-based companies such as ownCloud, Nextcloud, PyDio and Powerfolder are providing technology solutions focused on easily accessible services based on the Open Source software model to be further customised at the customer's site. This industrial approach has enabled academia and EU e-infrastructure providers to host on-premise cloud services. According to a CS3 community survey, 300.000 cloud accounts have been created across Europe by researchers and students, storing over 2.47 billion objects, thus demonstrating the relevant demand of academia for these set of services. However, the lack of integration among these industrial platforms still constitutes a relevant factor hindering the adoption of such services.
The CS3MESH4EOSC project, supported by the European Union's Horizon 2020 research and innovation programme, by developing ScienceMesh, offers the researchers with a unique entry point allowing the users to control their remote datasets, exchange and publish data, while becoming FAIR compatible and integrated with EOSC (European Open Science Cloud) at the same time. This approach supports the researchers throughout the entire lifecycle of discoveries from data collection to archival with a completely secure and compliant service for all European researchers.
Key outcomes
Researchers and developers at pan-European level will be able not only to use ScienceMesh, but also to contribute to application plugins or easily set-up federations in their scope, thus developing their own activities on top of them. 
Researchers will access a global collaboration platform integrated in their current working environments and data collection or sharing will be available to everyone. Institutions and academia will gain the opportunity to choose different service providers without losing control over their data. Service managers and site administrators will take advantage of a well documented environment for stable service operation at scale, thus being part of a large community of developers. The tech Industry in Europe and beyond will extend its current user base and ensure integration with the European Open Science Cloud ecosystem.
The main key benefits for the target communities will be free data access and sharing, independently from the location of information, applications interoperability, collaborative groups creation and remote toolset usage anytime and anywhere.
Contribution to EOSC
ScienceMesh will develop a set of collaboration services for researchers and developers that will be directly available from EOSC-hub, thus expecting to engage 300.000 users into EOSC (European Open Science Cloud). This asset constitutes a relevant benefit not only to the EOSC community, but also for the CS3 one, that will be interlinked and enabled to collaborate together. Also, ScienceMesh will be fully interoperable with OpenAIRE tools, allowing metadata aggregation and direct export to both OpenAIRE flagship repository and Zenodo. 
Who is involved?
CS3MESH4EOSC is run with the joint effort of 13 partners involving world leading Large Research Infrastructures and research institutions in the fields of Physics, Cloud Computing and High Performance Computing. Under the Coordination of CERN, the consortium includes the Technical University of Denmark, SURFsara BV, Poznań Supercomputing and Networking Center, CESNET, AARnet, SWITCH, University of Münster, Ailleron SA, Cubbit SRL, Joint Research Centre - European Commision (JRC), Fundacion ESADE, Trust-IT Services.
---
Original article: https://www.trust-itservices.com/news/cs3mesh4eosc-supporting-everyday-practice-researchers-europe-and-beyond