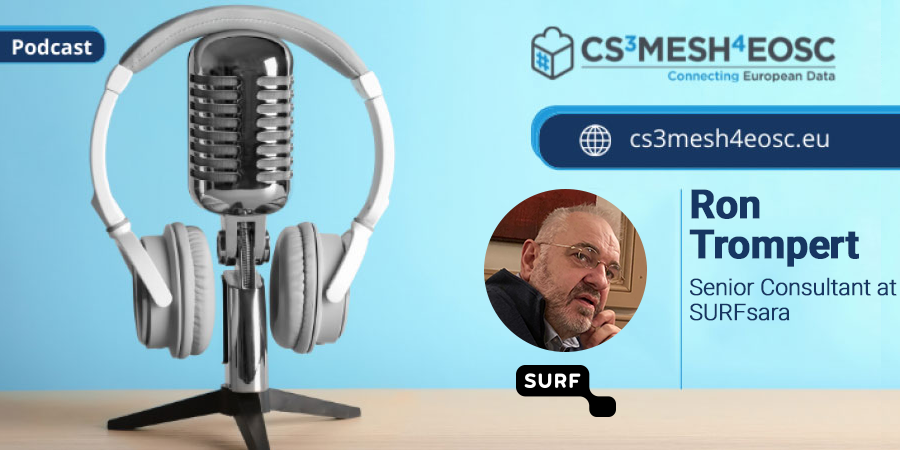 On-Demand Data Transfers | Smooth Remote High-speed transfer of data - 3rd Podcast with Ron Trompert from CS3MESH4EOSC and SURF.
CS3MESH4EOSC is kicking off its 3rd Podcast episode: "On-Demand Data Transfers | Smooth Remote High-speed transfer of data". This episode is focused on the "On-Demand Data Transfer", one of the main categories of services of the Science Mesh. The On-Demand Data Transfer allows the high-speed transfer of information from remote locations to local sites across different countries. This is quite useful specifically supporting use cases not able to extend processing capabilities to remote sites.
On-Demand Data Transfer
Dropbox and Google Drive allow you to easily share data with people who are either part or not of your organisation. However, they allow data sharing but not a transfer of data! This is where ScienceMesh comes into the story. You can easily share data but also transfer data. 
With dropbox or GoogleDrive, if you want to transfer data, you need to download all the data from dropbox to your PC and then move from your PC to another hard disk or other storage platforms. This is time-consuming and sometimes not possible for the user to do, especially if we are talking about terabytes of data to be transferred. 
The Science Mesh has available two types of data transfer:
Adhoc Data Transfer: simply the manual transfer of electronic files from person to person via email, instant messaging or, in recent times, through file-sharing apps. Here we copy data from one storage system to another. This is important for the longtail users, that is, individual people that need to transfer from one place to another.
Orchestration of Data Transfer:  automates processes related to managing data, such as bringing data together from multiple sources, combining it, and preparing it for data analysis. This one is more focused on international communities and big organisations.
With "On-Demand data transfer" the user saves time by transferring data from one place to another, without having to download it.  We remove "bureaucracy to the user when managing data".
You can listen to the podcast here below
Stay always up to date:
The motivation behind the creation of the Science Mesh was to provide researchers, educators, data curators and analysts with the ability to control and share data and datasets remotely, across borders in a secure and easy way. The platform interconnects nodes from different European countries to create a bigger platform where users can recombine their data with others. From a cost-effectiveness point of view, the Science Mesh is attractive to operators; without it, each site would be responsible for the development of their own science-facing capabilities.
The Science Mesh levels this playing field and allows operators to reuse locally a science-facing capability that has been developed elsewhere in the Science Mesh. Another important point is that the Science Mesh is a horizontal infrastructure, that is, it can be used regardless of the scientific domain of the user (e.g. social sciences, earth observation). Its base offering is generic enough that it is useful to a broad spectrum of worldwide science communities; specific domain relevance is attained through the development of science-facing plugins. Science Mesh aims to bring all science data and science identities together.  The time to work in "silos" and isolated from each other should be over.
 
Science Mesh next steps – Applications integration
CS3MESH4EOSC has the ambition of involving groups beyond the core consortium partners in co-design and co-development of the service. Still being in its development phase, the Science Mesh is integrating services from third parties into the mesh, to enlarge the platform in different kinds of services: the one explained now, the Open Data Systems, Data Transfer and Collaborative Editing. Follow the CS3MESH4EOSC to receive updates about the latest developments.