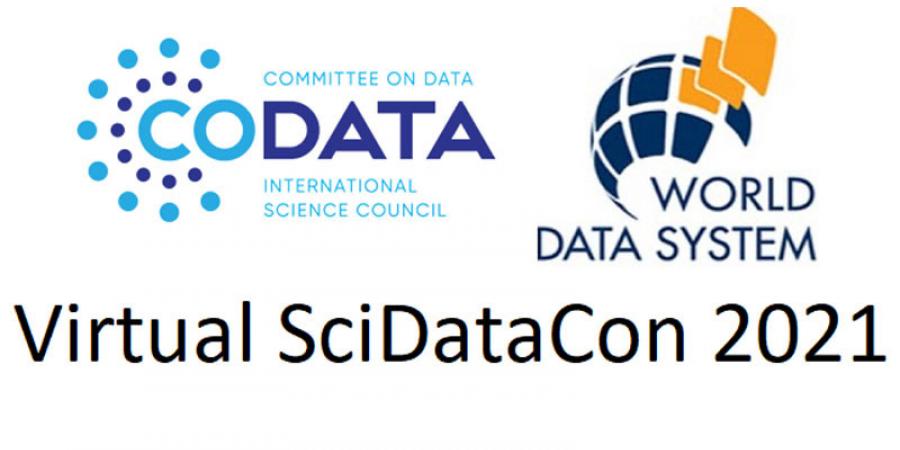 Following the postponement of International Data Week to June 2022 (hybrid and onsite in Seoul, Republic of Korea), it was decided to retain some of the most significant and time sensitive session proposals and to run them in a Virtual SciDataCon.
Virtual SciDataCon 2021 comprises sessions covering the following themes:
FAIR: interoperability and reusability
Implementing and Assessing FAIR
Policy Implementation (Open Science and FAIR)
Data Skills
Data Stewardship
Data Centres and Repositories
Research Infrastructures
Global Open Science Clouds, Platforms and Commons
Data for the Sustainable Development Goals and Disaster Risk Reduction
Data in Cross-Domain Research
Data in the Earth Sciences
Strategic Discussions about CODATA and WDS Initiatives
The event will start with a keynote and discussion on Monday 18 October (11:00-12:30 UTC) and will close with a panel discussion on Thursday 28 October (13:00-14:30) covering the themes of the conference and the role of CODATA and WDS in relation to current developments, including the UNESCO Recommendation on Open Science, the International Science Council's Action Plan.
CS3MESH4EOSC participation in the SciDataCon 2021
CS3MESH4EOSC Workshop: Science Mesh - Unlock scientific collaboration through technology - 26 october 2021 | 13:00-14:30 UTC | 3:00-4:30 PM CET
This 90min practice session will showcase with real examples how the Science Mesh (explained below) is supporting collaboration of distributed science teams across disciplines dealing with data. The session will have presentations from Science Mesh developers and also representatives of each one of the use-cases. There will be opportunity for interaction and discussion with the audience.
The Science Mesh, a service developed by CS3MESH4EOSC project, enables the users to retain control over their remote or domestic datasets, while becoming FAIR (Findable, Accessible, Interoperable and Reusable) compatible and integrated with the EOSC (European Open Science Cloud) at the same time. Users are able to directly access the service provided by Science Mesh from easy-to-use interfaces and discover the different functionalities, as well as develop application plugins or easily set-up federations in their own scope and develop their own activities on top of them. The Science Mesh goes beyond the general-purpose storage services from multinational companies, by providing an interconnected platform suited to the particular needs of researcher and students at European academic institutions and increasing scientific knowledge coming from both the academia and the research industry.
Exemplary benefits of this integration in Humanities, High Energy Physics, Astronomy, Earth Observation and Social Media fields will be presented by real use-cases that are already getting societal and scientific benefits from those Science Mesh's features.
Who should join this session?
Researchers, data curators and analysts aiming to assemble an efficient, reliable, collaborative and transparent research tool chain, to more easily articulate the impact of their research in the upcoming altimetrics policy environment;
Institutional operators and services looking forward to using an easier long-term data custodianship and seamless access the functionality or the data they require in a transparent way, fully integrated with the in-house services;
Commercial software developers that aim to develop new product based on complex, large scale data in virtually all sectors;
Non-commercial software developers looking for an easier time writing research workflow code against a standardised API to access metadata;
Policy makers & citizens to get to know standarised tools that facilitate collaboration of citizen scientists and Citizen Observatories, as well as make make FAIR data relevant in the day to day science practice of all researchers.
Agenda (draft)
5min – Welcome and overview of CS3MESH4EOSC (Pedro - Technical Coordinator of CS3MESH4EOSC and Project and Service Manager at CERN) (Presentation)
5min – Science Mesh: Unlocking scientific collaboration through technology (Pedro - Technical Coordinator of CS3MESH4EOSC and Project and Service Manager at CERN) (Presentation)
5min – Science Mesh core applications - the federated layer (Maciej Brzezniak - Storage and Cloud Systems Architect at PSNC) (Presentation)
10min – High Energy Physics: analysing data streams from particle detectors (Marcin Sieprawski - Head of Big Data Lab at Software Mind)
10min – PARADISEC: guarantee long-term usefulness thanks to metadata (Guido Aben - director of eInfrastructure Partnerships at AARNet) (Presentation)
10min – LOFAR: Low Frequency Array (Ron Trompert - leader of the Online Data services group at SURF) (Presentation)
10min – JRC: supporting decision-making in sustainable management of natural resources (Marcin Sieprawski - head of Big Data Lab at SoftwareMind)
10min – Social Media Analytics and Crisis communication (Holger Angenent - University of Münster) (Presentation)
20min – Questions and Answers
5min – What's next & Closing Remarks (Pedro Ferreira - Technical Coordinator of CS3MESH4EOSC and Project and Service Manager at CERN) (Presentation)
VIDEO
1. Pedro Ferreira__ScienceMesh-Introduction.pdf