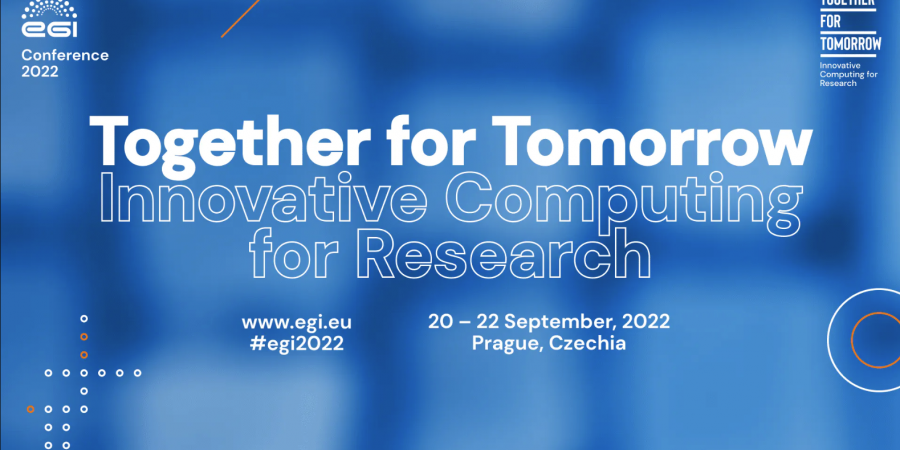 Hosted by EGI and CESNET, EGI2022 will take place on the 20-22 of September 2022 in Prague.
Several co-located events are organised on Monday, September 19th and Friday, September 23rd.
 
The annual EGI conference is widely recognised as the venue that brings together like-minded professionals from the world of science and scientific computing.

During EGI2022, we will look towards the future – how will innovative computing services and solutions help to build a better research ecosystem? How can we work towards innovation? And what opportunities are there for new collaborations?
EGI2022 consists of plenary sessions and breakout sessions, posters and demo sessions, and social events to allow learning and networking.
On Wednesday, 21 September 2022 at 17:45, CS3MESH4EOSC is participating in the EGI Conference with a contribution about the collaboration between ScienceMesh and EGI. 

Title "Low Barrier Sciencemesh User Access to EGI Services"
Time: 21 Sep 2022, 17:45
Speaker: Milan Danecek, CESNET

Description
We can say that EOSC has a vision of delivering a Seamlessly Accessible Cloud for Research. An obvious approach, then, is to start with existing systems and ensure that science users can use them as a joined-up offering without problems of accessibility, interoperability or eligibility. Two of the best-established systems in the pan-European domain are EGI's cloud compute service and CS3MESH4EOSC's synch&share storage/collab service (the "ScienceMesh").