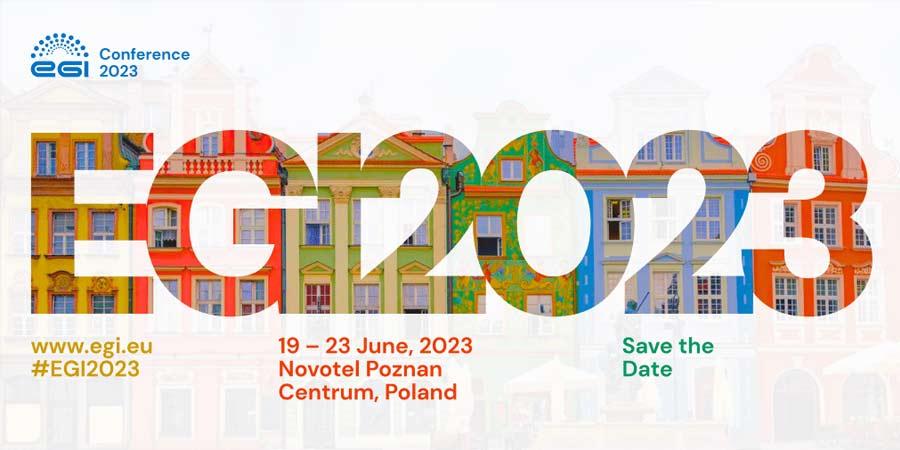 From June 19th to 23rd, the EGI community will meet again, this time for #EGI2023. International scientific communities and computing providers in Europe are major contributors to research and innovation in data-intensive processing and analytics and are at the core of our conference programme.    
Let's get together in Poznań and: 
Meet the scientific communities that are at the forefront of innovation, learn about their requirements and solutions for data discovery, access and processing, and start new collaborations;
Help research communities and industry joining their efforts to find common solutions to data access and data spaces;
Meet the largest community of research cloud providers in Europe and their IT strategies;
Learn about state of the art in scientific computing in Europe and meet a large community of cloud, HTC and HPC providers that provide core facilities to today's European computing infrastructures; 
Share your project results with a broad community of developers, providers and users who share a common interest in  federated trust and identity, federated data management and computing, AI,  and digital twins;
Learn about the EOSC Compute Platform, delivered by EGI-ACE, and how your research project can benefit from its services; 
Stay up to date with the latest technical developments in cybersecurity, scientific applications, data processing and analytics, and digital twins;
Call for contributions for posters, demonstrations, training workshops and lightning talks is now open till 20th March 23:59!  Registrations will open in March.
CS3MESH4EOSC at EGI2023
The CS3MESH4EOSC Final Event will be co-located with EGI2023! More info soon.
---
Official website: https://www.egi.eu/event/egi2023/